AIGA: Why did you decide to start your own podcast?
diane: In 2012, I was working full time as a professor at a local University teaching a 3/2 load while continuing to grow my freelance business, Little Bird Communications. There was a meet up downtown after work, but downtown is about an hour away from my house, and I was trying to use my time wisely. I knew I needed to have input from other designers on a regular basis, and at the time there was not an AIGA chapter in our area. At the end of the spring semester, I found this online platform called Spreecast and was an early adopter. It allowed people to come to a chat room and actually join in on the conversation through video invite or participate in the chat. I was able to meet some great people who were using the platform to create weekly content, and I invited people to join in on the learning and ask questions. I knew I could do it.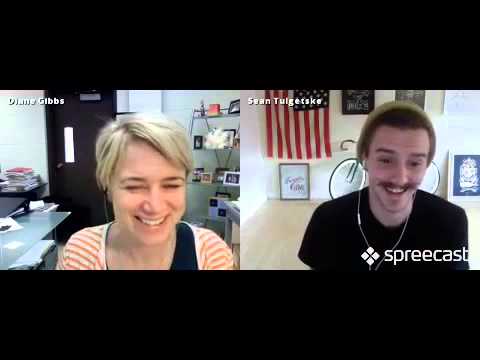 Someone I followed, Srini Rao, had a podcast at the time about business and creativity (now he has a new one called Unmistakable Creative), and one piece of advice he gave to any passion project (or for me this weekly web show) was to do it for five years. Commit to this for five years before giving up. I made a promise to myself to do it for five years.
Another reason I wanted to get more connected to other designers was I had applied for a teaching position at my alma mater and did not even get a skype interview—or for that matter—a letter saying they had filled the position. But I never held any bad feelings for my school; I still love Auburn so much. I decided I wanted to be someone who would get an interview at my alma mater, someone they would be proud of and would want to be part of their team.
In June 2012, I embarked on my first official episode and started a weekly streak that has been a game changer for me as a designer and as an entrepreneur. In 2014, with the help of some amazing guys who were producing podcasts, I got the podcast on iTunes and other platforms. (Thank you Patrick from Masters of One Podcast and Carlos Gomez from the Sketchzone Podcast for giving me their time and walking me baby steps through it).
AIGA: What resources were helpful to you getting started?
diane: People were my best resource. Simply not being afraid to email people or talk to people online. I still meet with creatives from all over the world every week over video chat platforms. I use Zoom (the most stable one, and I have tried a BUNCH).
The internet has been an incredible tool/resource. I know that seems trite, but really it was about creating a brand that looked real, getting some people I knew to do the first few interviews then posting on social media and building an email list. And kept learning about people I wanted to meet and then finding them and asking them questions.
If you meant real tools besides things that are already at your disposal, audio quality is really important in video—more important than video quality actually! So from the beginning, I bought a Blue Yeti Microphone. I used a video platform so I started with the camera on my computer and quickly upgraded to a Logitech camera in 2013, then again this year upgraded to a Logitech HD Pro Webcam C920.

AIGA: What has been the biggest challenge you've faced so far with the podcast? How did you handle it/are you handling it?
diane: The first year I think I did almost 50 episodes if not 50. The biggest challenge was scheduling the people and the tests. I hired a friend to help me who was not a designer and was not interested in the subject matter…and she did not work out. So I hired another friend who was working as a freelancer while she was raising two little girls—Ashleigh has been my saving grace. She has helped me keep going and encouraged me when I was ready to throw in the towel.
Ashleigh prays for me and the podcast; she is a light, and she is so good at what she does. I am not sure I could duplicate what she does. She has it down to a science; she schedules my guests out about four to six months in advance.
This year Ashleigh attended her second Creative South conference, and I am so thankful that I got to bring her along to hopefully get recharged herself.
AIGA: What problem are you trying to solve or value are you trying to provide?
diane: I am trying to provide examples of people who have done the things we struggle with as designers with side hustles, or designers who are running a business/or trying to get that business off the ground so they can quit their full time gig. I share people's "Hope Stories." That is what I call them. They have struggled, they have overcome or are in the middle of overcoming, but have made it up one mountain and have something to teach others. My friend Jodi Miller says I am a gold digger. She says I find the gold in people when other people see dirt. Maybe she is right, I like the analogy.
AIGA: How are balancing Design Recharge with all of your other commitments?
diane: Oh Lord, ask my students, my husband, my family. Probably not great. I really try and deliver in all these places, but my house is always messy (as is my office). My students might think I am not as available as other professors, but I hope not. My clients hopefully don't notice anything. Client work is fun and so enjoyable. Much more so than grading. I plan my semester before it even starts. That really helps, I have all my lectures and projects ready to go usually. Sometimes it is hard because I see the calendar I created before the semester starts and it has every day on it and what we are doing. Sometimes I have to adjust it, because I wanted us to move too quickly through a piece, and the students need more time. 

When it comes to client work, I usually get my client work done first. Then Design Recharge. Then grading. I hate grading.
AIGA: What strategies or new methods are you testing out to push Design Recharge forward?
diane: In December 2018, I started a Patreon account. I have grown that every month without really pushing it. I mention it on the podcast when I remember. I also have started three other affiliates and am launching some new educational video (YouTube) playlists about building websites from scratch. And another series that takes a beginner through some computer basics, file basics, time saving techniques, typography basics. These are all things I can use in my classes as well. But I will be starting these this spring and rolling them out this summer. It is two-fold: it helps students who need more preparation for classes and people who can't afford school get some of the resources they need too.
I am working on another new series that will be a month-long learning series that will help creative entrepreneurs in growing their businesses. It will cover things like presentation decks, SEO (Search Engine Optimization), Google AdWords, Launching a Successful Kickstarter, and much more. It is called the Ignitor Series, and I hope to release it in September or October of 2019.
AIGA: What is a piece of advice you'd give someone about pursuing a passion project?
diane: Be clear about the goal. How does it serve you? What does it provide for you personally, and how will you mark your growth? It is good for it to give to other people but it has to do SOMETHING for you. Otherwise you will not keep going when it gets hard.
Even if you are clear, be flexible and allow your goals to change and pivot as you grow. Making money can't be your motivator—it has to be deeper than that. I love what I do, and ever since I started my business and Design Recharge, every day I am so thankful to love what I get to do. One day I will retire from teaching (no time soon), but I hope I die designing and making things. My work is play, and I hope to play everyday. We are lucky to be designers and have a field that is so vast, that we can try something new if we are bored.
I hope this helps. We have some exciting things coming up, and if anyone is interested in learning more about all the things they can sign up for, the recharging you newsletter. Or they can come to a live Design Recharge episode by signing up for the weekly newsletter.
Or feel free to reach out to me at diane@rechargingyou.com.